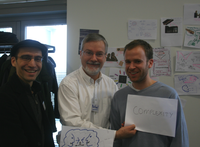 During the first workshop in Oxford, project participants worked in self-organized groups to articulate the underlying issues they wanted to explore further - the themes that are important to this community. These emerging research themes are:
- Complexity: how is value created in emergent relationships and interactions between service designers/providers, end users, and third parties such as hackers intervening in a service value chain?
- Quality in services: in service design and operations, which key performance indicators matter and to whom? How can we test if service design consultancies add value to enterprises in this project?
- Scalability: how can craft-based service designing be commoditised/routinized? What are the strategic dilemmas for science or technology enterpreneurs facing choices between blue sky research, the drudgery of cash generation, and standardized service architectures?
- Interdisciplinarity and identity: can we/should we aim to work towards a better definition of service design? What are the different practices, forms of knowledge, and design orientations in service design consultancies and enterprieses involved in this project?
- Rethinking service innovation: can this project be used as a pivot to rethink existing bodies of knowledge around innovation, social science and economic distinctions between products and services based in 19th-century categories and institutions? How does/will an understanding of the designing of services inform innovation more broadly?
Further elaborations of these questions set up by participants will appear here during January.